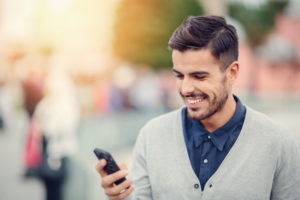 Dental implants from Tomball dentist, James Geer, replace teeth with stability and beauty. Learn details about these amazing prosthetics.
No tooth replacement option works as well as the modern dental implant. Expertly placed by Tomball dentist, Dr. James Geer, these artificial teeth reside in the patient's jaw bone, providing a secure foundation for healthy chewing and speaking and for outstanding aesthetics.
The anatomy of the dental implant
A dental implant has 3 parts:
a titanium metal screw placed by your Tomball dentist right into the jawbone during a simple, in-office surgery
a metal alloy post, or abutment, attached to the implant and extending above the gumline
a custom-fabricated porcelain crown, natural-looking in color and shape
After the dentist places the implant and closes the site, he allows for several weeks of healing so the implant adequately bears the physical forces of biting and chewing. This post-operative time accommodates a natural process called osseointegration where the jaw bone molds itself to the titanium implant. Osseointegration makes dental implants uniquely strong and also prevents gum and bone recession, common side effects of tooth loss.
Other advantages of dental implants
While dentists and their patients often choose dental implants to replace a single tooth, these prosthetics also anchor multiple teeth–in other words, fixed bridges or full dentures. In the case of bridges, implants avoid tooth and gum recession and grinding down of tooth enamel to anchor bridges to neighboring teeth. With full dentures, patients need no gooey adhesives, and jaw height and density remains youthful and strong. These denture patients experience no slurred speech or dietary restrictions.
Additionally, while bridges and conventional dentures need replacement in 8 to 10 years, dental implants last a lifetime, rarely requiring the added costs of replacement. They boast a success rate of more than 90 percent, are easily cared for with routine brushing, flossing and professional cleanings and look just great. Customized implant restorations mimic the feel and function of real teeth. In fact, patients report they forget that they have implants.
Who gets dental implants?
Individuals in good overall health make excellent candidates. Dr. Geer examines the patient to make sure he has sufficient bone to accept an implant. In the case of thin bone, the doctors augment it with donor tissue and other materials and then place the implant.
Additionally, patients must floss and brush diligently. Smoking jeopardizes dental implant longevity just as it causes other oral and systemic health issues. The doctors encourage smoking patients to abstain for 72 hours before and after implant surgery to help the healing process. If possible, implant recipients take the opportunity to quit altogether.
Contact your Tomball dentist
He is the best source of information on this ideal tooth replacement option. Call the office staff today to arrange for a dental implant consultation. Look forward to a complete and healthy smile.