Dental Crowns & Bridges – Tomball, TX
Choose Natural-Looking Restorations

Your teeth are meant to last forever, but that isn't a reality for many Americans. Whether from decay, disease, or trauma, a tooth can suffer significant damage. In some cases, you might even lose a tooth or two. Thankfully, you don't need to live with a less than perfect smile. Dr. Geer can restore your oral health to its previous state using dental crowns or bridges. Your dentist in Tomball will rebuild a healthy, beautiful smile using a personalized treatment plan.
What are Dental Crowns?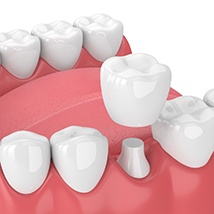 A dental crown is a customized cap bonded over the entire portion of a tooth above the gum line. It's a versatile option that offers both restorative and cosmetic benefits because crowns are now made of all-ceramic material. Overall, it can enhance the health, function, and appearance of a tooth while also providing an added layer of protection. It's not uncommon for a crown to be used along with another treatment, such as a bridge or dental implant.
What are Fixed Bridges?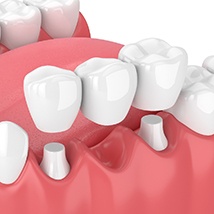 A fixed bridge is the most convenient option to replace one or more consecutive missing teeth. Dr. Geer will take an impression of your mouth to recreate the surfaces of those you've lost using all-ceramic material. The bridge closes the gap between your remaining natural teeth to complete your smile. It's held in place by bonding dental crowns over the adjacent teeth, so you don't need to worry about it slipping.
What are the Benefits of Dental Crowns and Fixed Brides?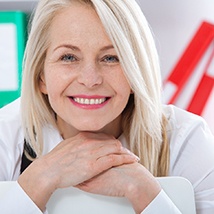 Every tooth is essential for a functional smile. If even one is compromised or missing, it will negatively impact your oral health and quality of life. In some cases, your self-esteem might also suffer because it's easy to feel embarrassed by the imperfections.
Repairing damaged teeth allows them to stay in place for many years to preserve your natural smile. Treating any lost teeth will ensure you can chew, smile, and speak without any concern to promote your oral and general health. Not to mention, you'll give your confidence a boost.
Am I a Candidate for a Dental Crown or Fixed Bridge?
If you have a tooth that has suffered significant damage, like a break, fracture, or large area of decay, you might be a candidate for a crown. Dr. Geer may also recommend one if you need another treatment, like root canal therapy.
Often, patients who have lost 1 or more teeth in a row can benefit from a bridge. Dr. Geer will evaluate your tooth loss and the abutment teeth to ensure a fixed bridge is the right choice for you. He will perform a thorough examination, which may also include diagnostic imaging. Dr. Geer takes the time to learn more about your concerns and the results you want to achieve to determine if a bridge or crown is the best treatment for you.
Schedule Your Consultation
You can invest in a healthy smile that lasts with restorative dentistry. Contact our office today to schedule your consultation with Dr. Geer. He will create a personalized plan to mend your teeth.