Porcelain Veneers – Tomball, TX
Transform Your Damaged Teeth Into Beautiful Pearly Whites

Does the sight of your damaged teeth cause your self-esteem to drop? Everyone should be able to pursue the beautiful smile of their dreams, but several flaws can make the amount of treatment needed seem overwhelming. Thankfully, Dr. James Geer offers patients from Tomball and beyond a transformative cosmetic solution called porcelain veneers. In just two appointments, we can customize your smile based on your desires. Whether you need a single tooth repaired or your entire mouth, veneers can conceal a variety of imperfections. Let us help you boost your self-confidence and regain your ability to have fulfilling social interactions without feeling the need to hide your embarrassing smile.
What are Porcelain Veneers?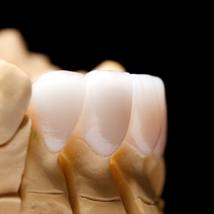 A dental veneer is a thin shell made of dental porcelain. It's used to improve the aesthetic value of a person's smile and hide common cosmetic issues like chips, cracks, gaps, stains, and more. We can even create your new veneer so that it alters the size, shape, or length of certain teeth, depending on your preference. Our custom design precisely mimics the color of your enamel for a seamless, lifelike look. The material is actually more resistant against discoloration than your natural teeth, maintaining a polished appearance over a longer timeframe.
The Process of Getting Veneers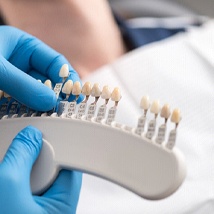 Before the procedure begins, you'll need to visit Dr. Geer for an initial consultation to discuss the goals you have for your smile. He'll examine the health of your teeth and gums and discuss the possible limitations they may have in comparison to what transformation you'd like to achieve. Once you've decided that porcelain veneers are the right solution for you, the procedure will require two appointments.
During your first visit, Dr. Geer will prepare your teeth by removing a thin layer of enamel from them. This makes it so that the veneers will lay flush with the rest of your teeth and won't protrude from your mouth. He'll then take impressions of the teeth you'd like to have repaired to send them off to our dental laboratory to craft your custom shells. Lastly, he'll place your temporary veneers to help you get used to the feeling of them while you wait for your permanent ones to arrive from the lab.
Once we receive your custom veneers that have been crafted to Dr. Geer's specifications, we'll schedule your final appointment. We'll remove your temporary ones and permanently attach your custom veneers to your natural teeth using dental cement. Once all of them are secured, we'll reveal your new, gorgeous smile that you'll be proud to show off.
The Benefits of Veneers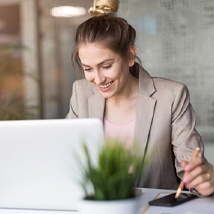 Patients are satisfied with their smile after getting porcelain veneers because they reap countless benefits from the procedure. No matter how many cosmetic flaws you're looking to repair or what they are, veneers are practically a do-it-all solution. Some advantages of getting them include:
If you're considering revamping your smile with porcelain veneers, the first step you should take is to schedule an appointment with Dr. Geer. He can walk through the process with you and answer any questions you may have. You won't regret the investment once your transformed grin is revealed!