Dental Implants — Tomball, TX
Permanently Replace Your Missing Teeth

Living with missing teeth can be challenging, but the good news is that you don't have to be stuck with the gap! Dr. James D. Geer can fully restore your smile to full health with dental implants. Not only will your new teeth look natural, but they'll also feel completely natural as well! This revolutionary tooth loss solution comes with health benefits that you wouldn't be able to enjoy with traditional dentures or bridges. If you've lost a tooth or several teeth, contact us today to schedule a consultation; we'll help you discover whether dental implants are right for you!
Why Choose Dr. James Geer For Dental Implants?
#1 Entire Dental Implant Procedure Completed In-House
#2 Permanently Replace Any Number of Missing Teeth
#3 Dr. Geer Has Been Serving Tomball Since 1977
What Are Dental Implants?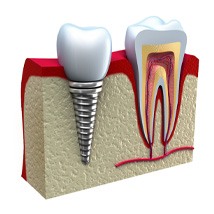 A dental implant is a type of dental prosthetic in which a small titanium post is placed directly into the jawbone in order to restore the root structure of a missing tooth. Once in place, it can be used to support a variety of dental restorations above the gum line, thus filling in the gap in a patient's smile.
When you lose a tooth, the bone where the tooth originally was starts to break down because the jaw does not see any need to have it there anymore. When you replace the root with an implant, the jaw gets stimulated and sees how important that bone is. Overall, this leaves the bone healthier than if you left it following a tooth being extracted or lost.
The Dental Implant Process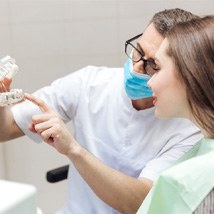 From the surgery that inserts the implant posts in your jaw to the placement of the prosthetic tooth, Dr. Geer can handle the entire procedure from start to finish at his practice. This means you won't have to travel across town to see a specialist that you don't know at all to receive your dental implants; you can just leave it all to a team that you already know and trust.
Benefits of Dental Implants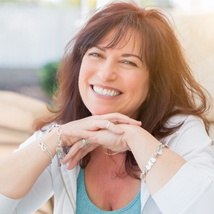 Replace the Roots of the Tooth: The implant posts basically serve as "roots" for crowns, bridges, or dentures, holding them in place and preventing them from slipping. This also means that the jawbone still receives stimulation from chewing, which it needs to remain strong.
High Success Rate: When implants are used to replace a tooth, they're successful 95% of the time!
Eat Whatever You Want: Dental implants will let you chew almost as well as you could with your natural teeth, meaning there are no diet restrictions.
Long Lifespan: As long as you take care of it, your dental implant will last for decades.
Who Dental Implants Can Help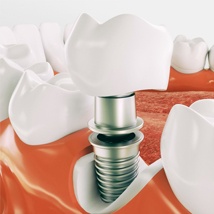 Anytime there's at least one tooth missing in your mouth, dental implants are an option that should be considered. Depending on your situation, you might need one dental implant or multiple.
Missing 1 Tooth
A dental implant and a crown can replace a missing tooth anywhere in the mouth. Typically, you'll need to wait several months after getting the actual implant before you can get the crown that serves as the replacement tooth; that's because your jaw needs time to heal and integrate with the dental implant.
Missing Multiple Teeth
If there are a couple of gaps throughout your mouth, each one can be filled by its own implant and crown; however, if three or four teeth in a row or missing, you can replace them all at once with a dental bridge supported by two dental implants.
Missing All Teeth
Full dentures are the best solution for replacing multiple teeth at once, and they can be supported by 4 to 8 dental implants. Thanks to the additional security and stability, you won't need to worry about your teeth slipping at embarrassing times.
Understanding the Cost of Dental Implants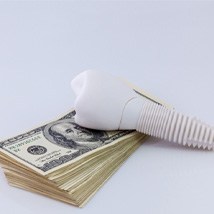 The cost of your treatment will vary depending on the number of implants you get, the type of restoration you'll need, and the procedures required to prepare your jaw for dental implants. It's important to remember that no matter what the final cost is, dental implants are an investment in a new smile that will last for years to come.
Types of Dental Implants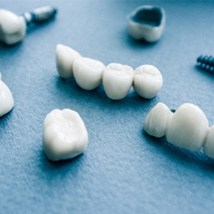 There isn't a set fee for dental implants because the cost is determined by each patient's treatment plan. There are several things that influence the amount you pay, like the number of teeth you're replacing and the kind of restoration you'll need. You can expect to pay more for multiple posts and abutments, as well as larger restorations.
The Stages of Dental Implant Treatment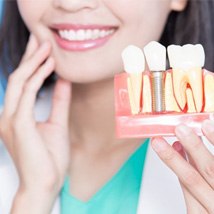 A dental implant rebuilds your tooth from the root up. This requires a multi-stage treatment process that will occur over several months. Each step has its own fee, so you won't need to pay the entire amount at once. Although everyone's treatment plan differs, most patients will need:
Initial Consultation: You'll require a visual examination and a CT scan to ensure you're a candidate for dental implants.
Additional Treatments : Many patients need additional procedures, like periodontal therapy, tooth extractions, or bone grafting.
Placement Surgery : Sedation or anesthesia is used to ensure a pain-free process of surgically placing your implant posts into your jawbone.
Abutment : Each post needs an abutment to secure your restoration.
Restoration : Your new teeth are made of all-ceramic material to look natural.
Are Dental Implants Worth the Investment?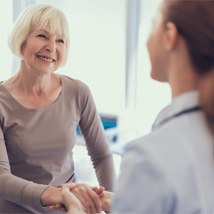 Dental implants may cost more initially, but they are more affordable long-term. As the most reliable solution to treat tooth loss, they have the potential to last for decades with the right care, like maintaining your oral hygiene at home and visiting your dentist regularly. You should never need to worry about paying to have them replaced with the right aftercare.
Dental implants are also the only treatment to stimulate bone growth to keep your jaw strong. This stops dental drift to preserve your natural smile. As a result, you'll lower your long-term costs for care by preventing common issues associated with tooth loss.
Does My Dental Insurance Cover Dental Implants?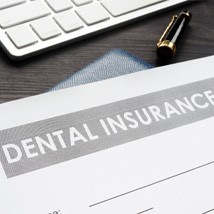 Every policy differs; however, most plans offer some coverage for dental implants after meeting your annual deductible. We will file the necessary claim forms to maximize your annual allowance to reduce your out-of-pocket costs. If you owe a remaining balance, we accept several payment options to keep your treatment affordable, like third-party financing.
If you're ready to invest in the next best thing to your natural teeth, take your first step toward a complete smile by scheduling your consultation . We'll create a customized plan and provide you with an estimate to permanently treat your tooth loss.
Dental Implant FAQs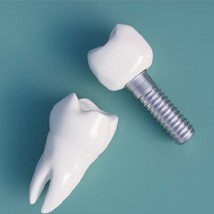 If you're still on the fence about replacing your missing teeth with dental implants in Tomball, we completely understand. After all, implants are considered a bit of an investment in the future of your smile. In addition, it can take several months to a year for the process to be fully finished. However, we wholeheartedly believe that the durability and strength of dental implants are worth the wait and the cost. If you're still apprehensive about it, we have answered some of the most common questions we get about dental implants. For all implant-related questions that you don't see answered on this page, you can just give us a call!
Will I Have to Be Referred to Someone Else for Dental Implant Placement?
Not at all! Dr. James Geer has undergone years of specialty training to gain the expertise needed to place dental implants right here in his own office. Many dentists don't possess this skill. As a result, they often have to refer patients who want dental implants to an outside specialist, such as an oral surgeon or a periodontist. Rest assured that you can receive the tooth replacements you need from the Tomball dentist you trust.
Will I Need a Bone Graft to Get Dental Implants?
The only way to know if you'll need a bone graft prior to getting dental implants is to come in for a consultation. When you have been missing teeth, especially for a long time, your jawbone begins to deteriorate in that area due to a lack of stimulation from your natural tooth roots through biting and chewing. Because of this, the bone can often no longer provide enough support for a lasting dental implant. This is where a bone graft comes in. Dr. Geer can graft artificial bone tissue onto your existing jawbone. Over the next few months, the graft will fuse to the bone, strengthening it so that you can receive as many implants as you need to have a full, beautiful smile again. During your consultation, Dr. Geer will evaluate your jawbone health to determine if you need any preliminary procedures like a bone graft.
How Long Do Dental Implants Last?
Provided you take good care of your implants, they can be trusted to last for decades to come, possibly even for the remainder of your life. Proper implant maintenance entails daily brushing, flossing, and rinsing with an antimicrobial mouthwash. It also involves seeing Dr. Geer for a checkup at least twice a year, or every six months.
Does Getting Dental Implants Hurt?
Thanks to local anesthetic and sedation if need be, the dental implant placement procedure shouldn't be painful in the slightest. In fact, many patients prefer getting an implant placed to having a tooth extracted. Because it is a kind of oral surgery, however, you can expect to deal with some degree of soreness and swelling for a few days following your procedures. This is nothing that can't be managed by taking your prescribed or OTC pain medications as directed on the bottle or applying a cold compress to your cheek in ten-minute intervals for up to an hour.