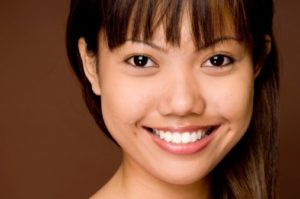 Smile and the whole world smiles with you—or so the saying goes. But what if you don't want to smile? Not because you're unhappy, but because you'd rather no one see the condition of your teeth. That's no reason not to smile! With cosmetic dentistry you can have a smile that really will make the whole world want to smile right along with you. Your Tomball cosmetic dentist, James Geer understand that a beautiful smile is more than a pretty accessory—it can change your life. Therefore, our dental practice offers a number of cosmetic dentistry treatments.

Porcelain Veneers
Sometimes patients present with smiles that have a combination of imperfections, such as chips, cracks, misshaped or missing teeth and teeth with wide gaps between them. To fix each one of these individually might seem like a daunting task. But what if we told you that we could repair your smile in only two appointments? That's exactly what happens with porcelain veneers. Also called dental veneers or just veneers, this cosmetic solution covers the flaws in your smile. Veneers are individually bonded to the teeth that show when you smile.
Tooth-Colored Fillings
Not that long ago, tooth decay that caused a cavity was always repaired with an amalgam filling. And while these were strong and long-lasting, they often weakened a tooth and darkened the tooth's appearance. Today, however, there are tooth-colored fillings that are made of composite resin material, which can be blended to match the existing shade of your tooth. Moreover, a tooth-colored filling necessitates less tooth preparation, which means less time under the drill for you.
All-Ceramic Restorations
Just because we need to restore a tooth doesn't mean you should have to sacrifice the appearance of that tooth. With tooth restorations such as crowns, bridges, inlays and onlays made of tooth-colored materials like porcelain and composite resin, you can have a healthy tooth that looks completely natural, too. These restorations can also be used to replace metal fillings and crowns.
Snap-On Smiles®
As the name suggests, Snap-On Smiles just snap over your teeth to create an entirely new smile. With this simple oral appliance, you can have a Hollywood quality smile without the time and expense that altering your real teeth would require. Made of dental resin, a Snap-On Smile is easy to care for, and you can eat and drink while you wear your special smile.
Call Our Office
To schedule a consultation with Tomball cosmetic dentist Dr. Geer, call our office and speak to a member of the staff. We'll be glad to discuss the cosmetic dentistry procedure that will make you smile. We serve patients from Tomball, TX, as well as from The Woodlands, Spring, Conroe, Aldine and Humble.