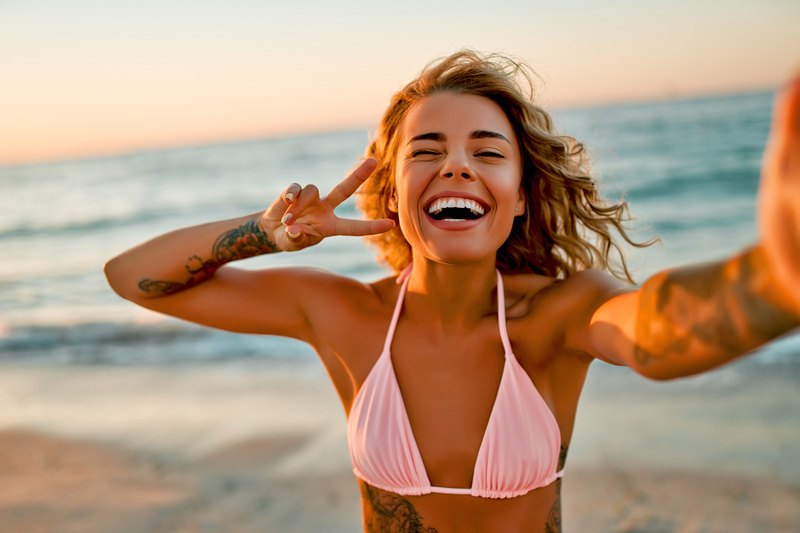 If you haven't noticed, Texas is facing an intense heat wave. Many of its cities are reporting record-breaking spans of triple-digit temperatures. Given these facts, you truly must protect your lips from the sun. You'll end up with sunburns or even oral cancer otherwise. Still, maybe you don't know how to go about this protection. Fortunately enough, your local Tomball dentist has a few pointers. Here are some ways you can protect your lips from overly-intense sunlight.
Avoid Direct Sunlight Hours
Of course, one obvious form of sun protection is to avoid direct sunlight. Less time soaking up rays means less risk of burns or worse.
In particular, protect your lips by staying indoors during peak sunlight hours. These range from 10 am to 3 pm standard time (or 11 am to 4 pm on daylight savings time). Doing so gives your lips shade and lets them stay healthy – a worthwhile outcome.
Wear Protective Gear
At times, you simply can't avoid being in the sunny outdoors. (This is especially true in summer.) When that happens, though, don't worry. You can protect your lips by wearing some protective gear.
Various clothing items can shield your lips from intense sun rays. For instance, you might wear a wide-brimmed hat or baseball cap. You could also opt for a face mask as a bolder approach. Regardless, such things would shield your lips and even keep your head cool.
Apply an SPF Lip Balm
More than anything else, the best thing for lips in the sun is SPF lip balm. Applying this product every two hours will filter out harmful UV rays.
In general, SPF lip balms have different varieties. They typically range from SPF 15 (which filters out 93% of UVB rays) to SPF 30 (which filters out 97%). Naturally, groups like the American Cancer Society recommend SPF 30 brands. Such kinds prevent lips from drying and stop them from getting oral cancer.
Keep Yourself Hydrated
True, hydration is crucial year-round, regardless of the environment. Even so, the practice is also vital when your lips are out in the sun.
Besides maintaining your fluid levels, drinking water will keep your lips moisturized. From there, the muscle folds are less likely to dry out or get chapped. So, keep a water bottle (or two) handy if you're hanging by the beach.
As you can see, it's entirely possible to protect your lips from the sun. That being the case, use the tips above as you enjoy your current summer fun.
About the Author
Dr. James Geer is a dentist based in Tomball, TX, having earned his DDS from the University of Texas at Houston. Beyond standard dental work, he's also trained in oral surgery with an emphasis on tooth extractions. As such, his specialty is comprehensive dentistry that's sure to give you healthy teeth and gums! Dr. Geer currently practices at his self-titled clinic and is reachable at his website or by phone at (281)-357-4337.