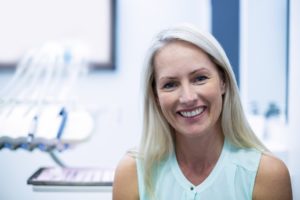 As you approach your golden years, your body undergoes various changes. Besides gray hair and a few wrinkles, women also reach the end of their reproductive years. Unfortunately, menopause can increase your risk of tooth loss because your bones can weaken from hormonal changes. Although teeth are meant to last for a lifetime, 1 in 5 adults over the age of 65 have suffered complete tooth loss. You don't have to live with an incomplete smile because of a natural event. You can still benefit from the next best thing to your real teeth with dental implants. However, there are a few things you should know about getting dental implants after menopause.
Menopause and Dental Implants
According to the University of Maryland Medical Center, 50 million women in America have reached menopause. A series of changes occur within the body that ends menstruation. Although the transition is natural, it can increase your risk of certain health and dental issues.
Menopause is linked to heart disease, glaucoma, and osteoporosis. As your bones become frail, your teeth may not have enough support, causing them to loosen and fall out, but that's not the only concern. Menopause can also increase your risk of gum disease, which is a leading cause of missing teeth.
It's not uncommon for post-menopausal women to believe they can't get dental implants because of bone loss or gum disease since both can cause the procedure to fail. While it's true, you may not be a candidate for the treatment right away, you can still replace your lost teeth with dental implants.
Getting Dental Implants After Menopause
A dental implant differs from any other treatment because it replicates the root and the crown. A titanium post is placed into the jawbone to support a restoration that's attached using an abutment. You must have enough bone density for your jaw to fuse to the implant through a process called osseointegration.
Bone loss is a common problem for people with missing teeth. You can lose up to 25% of your jaw's density within the first year of losing a tooth, which will continue to deteriorate as time passes. When combined with bone loss caused by menopause, it can be a recipe for disaster, but your dentist has the solution you need. Bone grafting can strengthen your jaw to create the foundation needed for dental implants.
Besides bone grafting, you may require additional treatments, like gum disease therapy. Although they may add a couple more steps to your treatment plan, you will have a complete smile that can last for 30 years or longer. You'll look and feel younger than ever by investing in the most successful method of treating tooth loss.
About Dr. James D. Geer
Dr. Geer achieved his dental degree at the University of Texas and has completed advanced training in oral surgeries. He is a member of various professional organizations, including the American Dental Association. If you're ready to replace your missing teeth, contact our office today to request your consultation for dental implants.