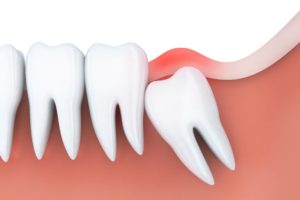 If you've been putting off having your wisdom teeth removed, there isn't any better time than the present to schedule your extractions. Summer provides the perfect opportunity to invest in your dental health. Life tends to slow down, and there are plenty of other perks to having them extracted before summer ends. Here are 5 reasons to schedule your wisdom tooth consultation. 
1. More Flexibility in Your Schedule
With the kids out of school and time off work, you don't have to worry about juggling as many daily responsibilities for a less stressful recovery. You will have a few extra days to relax while your mouth heals. You can spend more time relaxing, while your mouth heals, without having to worry about running back to the office or an after-school activity.
2. Plenty of Time to Relax
Your dentist will recommend taking it easy for a few days. You don't have to deal with boredom because you can still soak up the sun by the pool or curl up with a good book. You won't have to miss out on summer activities, as long as you follow your dentist's aftercare instructions, like no strenuous exercise for a few days.
3. Plenty of Cool Treats
Your mouth will be sore for a few days, which you can manage using an OTC pain reliever. Your dentist will also advise you to eat softer foods until your discomfort subsides. Summer is full of soft tasty treats, like smoothies and yogurt. You can enjoy your favorite seasonal foods and drinks while their coolness can ease inflammation and swelling. However, don't drink through a straw to prevent dislodging the blood clot forming at the extraction site.
4. More Time with Loved Ones
Life can get pretty busy, but your recovery gives you time to catch up with friends and loved ones. Whether you're binge-watching the latest Netflix series, gathered around a campfire, or stargazing, you can make lasting memories with your friends and families while allowing your mouth to heal.
5. You Still Have Dental Benefits
Although every plan differs, many dental insurance policies can be used to offset the cost of wisdom tooth removal. However, your benefits expire at the end of the calendar year. You still have time to use your coverage to lower the amount you pay for your procedure. Don't worry, your dental team will handle all the paperwork to maximize your coverage to keep your oral surgery affordable.
No one looks forward to having their wisdom teeth removed, but now is a great time to schedule your appointment. After 1-2 weeks, your mouth will be healed to make the most of your summer plans.
About Dr. James D. Geer
Dr. Geer earned his dental degree from the University of Texas and continued his education in oral surgery. His training has focused on difficult surgical extractions of the 3rd molars. If you need to have your wisdom teeth removed, contact our office today to request your consultation.