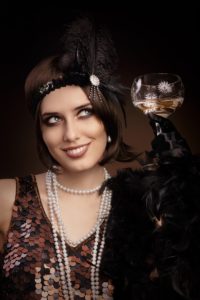 Some of the characters in Wuthering Heights may have been wearing porcelain veneers! That may seem surprising, but the first veneers were worn in Hollywood more than a decade before the story of Cathy and Heathcliff's romance debuted in 1939.
Very strong yet ultra-thin, porcelain veneers are designed to fit over the front portions of the teeth. Concealing a wide range of aesthetic flaws, they can bring beauty, balance, and symmetry back to a smile.
Keep reading to learn from your dentist in Tomball about the history of porcelain veneers and their evolution to remain a popular cosmetic dentistry treatment!
1920s
During this decade, Dr. Charles Pincus began to provide dental care for Hollywood's elite. Many of these celebrities needed brighter, whiter smiles for their opportunities in cinema.
In 1928, Dr. Pincus found a way to fulfill this need. He attached acrylic material to the front surfaces of the teeth and temporarily held them in place with a special adhesive. These veneers only stayed in place for an hour or so and were removed when actors were finished filming their scenes.
1930s-1940s
Dentists began to realize the general public was interested in the benefits of veneers, as well. So, they fabricated veneers from porcelain and composite, as these materials were very natural-looking.
But bonding them successfully to teeth for more than one hour was quite challenging. So, veneers were not yet a realistic option for people interested in permanently improving their smiles.
1950s-1980s
In 1959, dental etching was invented. Dr. Michael Bunocore applied a slightly acidic solution to teeth to roughen the enamel. This created a stronger bonding surface for the veneers, and etching is still used regularly as part of numerous dental restorations and cosmetic procedures.
In 1982, the discoveries of Bunocore were combined with the research of Dr. J.R. Calamia and Dr. R.J. Simonsen. They introduced the idea of using dental etch and bonding resins to improve the longevity of porcelain veneers.
This was the first semi-permanent dental bonding treatment available. Using this method, most patients could retain their veneers for several years before they would require repair, reattachment, or replacement.
Modern Veneers
The etching and bonding techniques used by those three doctors of the past are still in use today. In addition, modern veneers are more stain-resistant and natural-looking than ever before to resemble healthy, natural smiles.
Veneers have become commonplace among celebrities. Jordyn Woods got veneers to fix the gap in her front teeth, while Hilary Duff addressed a chip in her front tooth caused by a microphone. George Clooney was known to grind his teeth, so he decided to purchase veneers.
Veneers may be all the rage among the rich and famous, but even as they continue to improve in quality, veneers are still a realistic option for you, as well. See your Tomball dentist for a consultation today!
About the Author
Dr. James Geer began working to help patients in Tomball more than four decades ago. After a brief retirement, he realized the inner drive to practice dentistry was still there and so he got back to business at his private practice. Dr. Geer earned his dental doctorate at the University of Texas at Houston and he's a member of the American Dental Association. If you are interested in porcelain veneers, in only two appointments he can fit the customized shells over your teeth to conceal issues like cracks, chips, fractures, and gaps. Whether you need to repair one tooth or all of them, schedule a consultation to get started on his website or call (281) 357-4337.