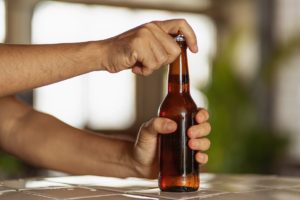 Your dentist strives to ensure your teeth serve you for a lifetime; however, there might come a point when they recommend having one removed. It's not uncommon to need wisdom tooth extractions or the removal of damaged teeth. No matter the reason, you're going to have a short recovery ahead of you. To help pass the time or relax after a long day, you might want to reach for a bottle of wine or your favorite alcoholic drink, but your dentist will suggest you wait a few days after having your tooth removed. Consuming alcohol after a tooth extraction can lead to unnecessary complications that may prolong your recovery.
Risks of Alcohol After a Tooth Extraction
After your dentist removes your tooth, a blood clot will need to develop at the extraction site to allow granulation tissue to form. Typically, this process takes about 1 week. If the clot doesn't form or is dislodged too soon, it can lead to a painful condition called dry socket, which can make your recovery slow and painful. You can avoid dry socket and other complications by skipping your glass of wine with dinner. Alcohol can hinder your body's natural healing process while also increasing the risk of infection.
Your dentist will suggest avoiding alcohol for at least 7 to 10 days after your extraction to allow your tissue to heal. Instead, they will recommend drinking plenty of water. You'll stay hydrated to aid the healing process.
If you're taking any prescribed or over-the-counter pain relievers, they can have adverse reactions when mixed with alcohol. You'll need to wait a little longer until after you've stopped taking certain pain relief medications to have a drink.
Enjoy a Stress-Free Recovery
Besides cutting alcohol from your day and drinking plenty of water, your dentist has a few additional tips to make your recovery easier:
Rest for at least 24 hours after your tooth extraction.
Bite on gauze for a few hours after your procedure to allow a clot to form. Change the gauze as needed.
Apply a cold compress to the outside of your mouth near the surgical site to reduce swelling, pain, and bruising.
Do not rinse your mouth vigorously to prevent dislodging the clot.
Don't drink through a straw for at least 24 hours.
Avoid spitting for at least 24 hours.
Don't smoke or use tobacco for at least 3 days.
Eat nutritious, soft foods until your pain subsides.
Maintain your oral hygiene routine.
Follow your dentist's aftercare instructions.
Your dentist will explain the entire procedure and recovery during your initial consultation. If you have any questions after your extraction, don't hesitate to contact their office.
About Dr. James D. Geer
Dr. Geer earned his dental degree from the University of Texas at Houston and continued his training in oral surgery. He focuses on the surgical removal of wisdom teeth. As a member of the American Dental Association and the Academy of General Dentistry, he has the qualifications you can trust. Contact our office today to schedule your consultation.