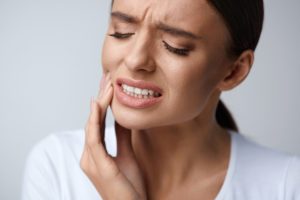 You probably never expect it to happen to you, but dental emergencies are quite common. 1 in 6 Americans faces this situation annually. Unfortunately, a sudden oral health issue often occurs without any warning. Although there's never a good time to have one, a dental emergency during the holidays can quickly ruin your plans. Your dentist in Tomball shares a few tips to help protect your smile to keep you out of the dental chair during the holidays.
1. Avoid overly hard foods and candy.
You'll be surrounded by many tasty snacks and treats, like nuts and candy canes. Although they are tempting to eat, they can lead to a broken tooth if you aren't careful. While your enamel is the hardest substance in your body, it isn't indestructible. As a result, it's best to skip eating overly hard foods to prevent a broken or fractured tooth.
2. Don't forget about your oral hygiene.
Your schedule may be a bit busier than usual, but don't neglect your oral hygiene. Commit to brushing your teeth at least twice a day. Clean all surfaces of your teeth for at least 2 minutes each session. Besides brushing, floss in between each tooth every night before going to bed.
3. Drink plenty of water.
Your mouth and body rely on your hydration. It's best to drink water to stay hydrated. Drinking a glass of water will help cleanse your mouth of harmful bacteria in between brushing and flossing. Not to mention, it will help combat dry mouth, which is a common problem during the winter months.
4. Visit your dentist regularly.
The American Dental Association recommends everyone visits their dentist at least twice a year; however, many people have skipped their regular hygiene appointments amid the COVID pandemic. With dental offices across the country reopening with new safety standards, there is still time to schedule your second cleaning and checkup before the new year. Your dentist will give you a clean smile while also detecting any issues that might lead to a dental emergency.
5. Cut back on the sweets.
Sweet treats can seem almost unavoidable over the next few weeks, but it's best to eat them in moderation. The sugars found in candies, cakes, and cookies can linger on your teeth. When they combine with your saliva, it creates an acidic plaque that can erode your enamel until a small hole forms, which might cause a toothache. If you can't ignore your sweet tooth, be sure to brush your teeth well afterward.
Don't Wait to See Your Dentist
Even with a proactive approach, a dental emergency can still occur. Don't wait to see your dentist. They will restore a healthy smile, so you can get back to enjoying the holidays.
About Dr. James Geer
Dr. Geer earned his dental degree at the University of Texas at Houston. He has completed advanced training in many specialties, like oral surgery. He offers the comprehensive services you need to maintain a healthy smile. If you need an emergency dentist during the holidays, contact our office for an appointment.