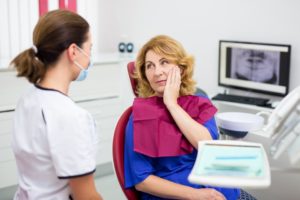 Many people will put off their dentist's recommendations for a multitude of reasons, and finding the time is one of the most popular. During the holiday season, life gets busier than ever and that makes it very easy to decide to just wait until after "all the craziness" is over – but that's not a good idea, especially when you're in need of something as serious as root canal therapy. Your dentist in Tomball can explain exactly what is happening to the affected tooth, and why you should never wait any longer than necessary to get this important service.
What Causes the Need for Root Canal Therapy?
Like most oral issues, the process begins with pain and a visit to the dentist. After the dentist has examined and performed X-rays on the tooth, they may tell you that you need root canal therapy. But what is actually going on with the tooth? The need for root canal therapy arises when a tooth is deeply fractured and the inner tissue is exposed, or when bacteria has already infiltrated the "pulp" or soft tissue chamber. That soft tissue then needs to be removed or bandaged to prevent further infection.
Why Shouldn't I Put Off Root Canal Therapy?
One question a lot of patients ask once they've received the recommendation for root canal therapy is, "how long can I put this off?" Instead, they should be asking their dentist when the next available appointment is. More than ever, busy holiday schedules make it easy to find excuses not to have the procedure. While it's easy to put off, your Tomball dentist has some very crucial reasons to share about why it's never a good idea to delay root canal therapy, especially over the holidays:
Infection is serious business! Without root canal therapy, infection in the tooth can spread through the gums into the bloodstream, affecting vital organs like the heart and brain.
Teeth do not heal themselves. Once a tooth is cracked, the fracture will only get worse over time. Plus, during the holidays, we often eat more often than normal. The excess chewing makes a cracked tooth even more vulnerable to continued breakage.
Fractured teeth are more prone to cavities. The longer a person waits to have root canal therapy for a broken tooth, the more likely that tooth is to develop a cavity. If that happens, the root canal therapy is less likely to be successful due to the excessive damage to the tooth. Holiday foods are typically high in sugar and starch, and it is much easier for bacteria to attack a tooth that is already compromised.
Advancements in modern dentistry and pain control have made the root canal therapy process much easier and simpler for everyone. Don't let nervousness or the busyness of the holidays cause you to delay treatment. It's a more important time than ever to talk to your dentist about scheduling an appointment to treat a damaged tooth and get your smile back on track.
About the Author
Dr. James D. Geer has been proudly serving the patients of Tomball since 1977. In fact, he loves dentistry and his patients so much that he returned to his practice after retiring. His primary focus is to ensure that everyone he cares for experiences the utmost comfort while undergoing any procedure. He has advanced training and experience and specializes in root canal therapy. To request an appointment, visit us online, or call us at (832) 639–6236.