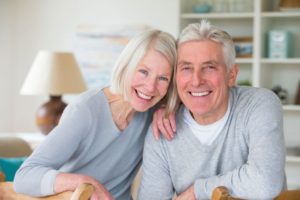 You've been missing a tooth toward the front of your mouth for a while now, and you're getting sick of it. it's hard to chew on that side of your mouth, bits of food keep getting trapped in the space, and you feel self-conscious every time you smile in front of someone. Have you ever considered getting your missing tooth replaced with a dental implant? Implants are often considered the gold standard when it comes to replacing missing teeth. But will onlookers be able to tell that you have dental implants in Tomball? Keep reading to find out.
But First, What Are Dental Implants?
A dental implant is a titanium post that's the same size as the root of your tooth. Your dentist will surgically place it directly into your jawbone, where it will perfectly mimic your missing tooth's root. Over the next few months, the implant will actually fuse with your jawbone in a process called osseointegration. After this process is complete, your implant will feel just like one of the pearly whites you were born with. Your dentist will then top the implant with a dental crown to give it the appearance of a natural tooth.
Will People Be Able to Tell I Have Dental Implants?
Just from looking at your smile, no one should be able to tell that your dental implants aren't your "real" teeth. The only way they would be able to figure that out would be if they had access to your dental records!
Your implant will be topped with a lifelike dental crown, which you can think of like a tooth-shaped "cap" that is bonded to the top of your implant to restore your ability to chew and smile with confidence. Since each crown is custom-made to blend in with your unique smile, it should look like a perfectly natural part of your grin!
Other Benefits of Dental Implants
Here are just a few of the numerous other benefits that dental implants offer:
Preventing your jawbone from deteriorating due to lack of stimulation from the tooth roots
Keeping adjacent teeth from drifting into the gap left behind a missing tooth
Having a success rate of more than 95 percent
Allowing you to eat virtually anything you want
Having the potential to last several decades or even a lifetime with proper maintenance
There's no need to be worried that people will notice your dental implants in Tomball. They should resemble a part of the smile you were born with. Call your dentist today and ask if dental implants are right for you!
About the Author
Dr. James Geer has served generations of Tomball, TX patients since he first opened the doors to his practice in 1977. He received his Doctor of Dental Surgery degree from the University of Texas at Houston. He has advanced training in oral surgery, including the placement and restoration of dental implants. To learn more about dental implants and whether they're just the thing your smile needs, contact Dr. Geer at 281-357-4337.