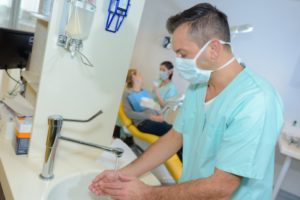 Dental practices around the country are reopening their doors to make sure that patients are able to keep their teeth and gums healthy during the COVID-19 crisis. For some people, this can cause a wave of anxiety at the thought of returning to a public space. Because your dentist in Tomball is implementing several new safety precautions during this pandemic, you won't have to worry about putting your overall wellbeing in jeopardy to take care of your smile. Read on to learn about four ways that your dental office will be ensuring your safety.
Thorough Hand Hygiene
The CDC has confirmed that people's primary defense against COVID-19 is frequent and thorough handwashing. That's why your dentist in Tomball and their staff is washing their hands for at least 20 seconds using antimicrobial soap during these moments:
Before and after gloves are put on or taken off hands
After leaving the treatment room
Before patient contact
After touching a patient
Regular and frequent hand hygiene in the office will reduce the risk of germs and bacteria spread from person-to-person or person-to-surface.
Wearing Personal Protective Equipment
At all times, the dental staff will be wearing personal protective equipment, including gloves, protective eyewear, masks, and splash screens. This will reduce the risk of droplet spreading to surfaces or people, minimizing the risk that you'll come into contact with any germs or bacteria during your visit. All patients will also be wearing masks when they enter the office, which will help keep common areas clean and sanitary.
Patient Pre-Screenings
Before patients come in for their appointment, they will be asked a series of questions over the phone to determine whether or not they are exhibiting any symptoms of illness. When they get to the office, a dental staff member will also take their no-contact temperature to ensure that they aren't running a low-grade fever, which is one of the most common symptoms of COVID-19. By doing this, they're able to ensure that people who aren't exhibiting any signs of illness come to their office to be treated, putting staff and other patients at risk.
Frequent Disinfection & Sanitation
Patient-care items such as dental mirrors, polishers, and scalers will be sanitized using heat after each treatment. Also, common areas and all surfaces in patient treatment rooms will be regularly disinfected throughout the day using approved disinfectants. This will ensure that any surface or item that patients come into contact with during their visit will be sanitary.
If you're concerned about scheduling your appointment and would like to learn about measures your dentist is taking to make safety during COVID-19 a priority, don't hesitate to reach out to staff. In addition to these four standard CDC precautions, they're also taking countless additional steps that you can learn more about by contacting them directly.
About the Author
Dr. James Geer has been providing patients in Tomball with high-quality and trusted dental care since 1977. He is passionate about helping his neighbors and community optimize their oral health and preserve their natural smiles, which is why he is also an active member of several professional organizations. For questions or to schedule a checkup and cleaning, visit his website or call 281-357-4337.