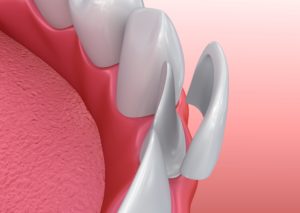 If you're ready to revamp your confidence by getting a beautiful smile, you've made a smart decision. Porcelain veneers are the perfect solution to improve the overall color, size, shape, and proportion of your teeth using a minimally invasive procedure. Attaching the false fronts instantly enhances their appearance to give you the flawless smile you've always wanted. Although you'll enjoy long-term results, you still need to commit to your oral hygiene so you don't experience a porcelain veneer cavity in Tomball. Here's what you need to know to keep your new smile cavity-free.
What is a Porcelain Veneer?
A veneer is a custom-made shell bonded to the front surface of a tooth to instantly hide a variety of imperfections, like discoloration, chips, and even gaps. Now, veneers are commonly made of porcelain because it closely mimics your enamel while also allowing the shells to be thinner than those used in the past. As a result, less of your enamel is removed during the bonding process for a minimally invasive treatment. Although veneers are thin, they can last for a decade or longer.
Can I Still Get Cavities?
Veneers aren't subject to tooth decay, but your underlying teeth can still be damaged. If you aren't proactive about your oral hygiene, you can develop cavities. Depending on where the decay is at on your tooth, you may need to have your veneer removed to treat it. Thankfully, you can stop cavities from starting in the first place by following the right oral hygiene routine.
How Can I Prevent Cavities?
Cavity prevention starts at home with your toothbrush and floss. Use a soft-bristled toothbrush and toothpaste to clean your teeth at least twice a day for 2-minutes each session. It's important to choose products that aren't abrasive to avoid causing small scratches on the surfaces of the veneers, which can make them look discolored. Besides brushing, you'll also need to floss your teeth every night before going to bed.
In addition to your oral hygiene habits, limit your consumption of sugary foods and drinks. When sugar combines with the bacteria in your mouth, it turns to an acidic plaque that will slowly eat away at your enamel until it causes a hole. You can significantly reduce your risk of a cavity by limiting your sugar consumption. If you can't ignore your sweet tooth, brush your teeth immediately afterward.
Don't forget to visit your dentist at least twice a year for a cleaning and checkup. Your cosmetic dentist in Tomball will monitor your dental health to detect any concerning areas early, like weakened enamel. Quick intervention can prevent a cavity from damaging your smile.
Invest in a Beautiful, Healthy Smile
You can enjoy your porcelain veneers for many years with the help of your cosmetic dentist and the best oral hygiene habits at home. Protect your investment for a beautiful smile that lasts!
About Dr. James D. Geer
Dr. James Geer has been in practice since 1977. He's supported by extensive qualifications and experience in a variety of dental specialties, including cosmetic dentistry. If you're interested in porcelain veneers, he can transform your smile. Contact our office today to schedule your consultation.