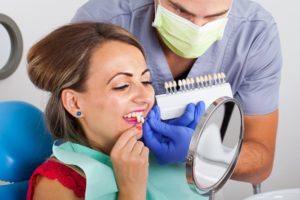 Did you know that veneers have been around for almost one hundred years? Ever since their inception, they have changed dramatically, from fake tooth caps that come off after a few hours to permanent restorations that appear completely natural. If you're considering getting veneers and are worried about the way they will look or feel, read this post to learn just how far the technology has come in developing perfectly lifelike veneers.
The History of Veneers
Veneers were first invented in Hollywood in the late 1920s. A California dentist named Dr. Charles Pincus came up with veneers as a way to improve the look of Hollywood smiles. At first, they were acrylic tooth caps designed to temporarily sit over an actor's natural teeth to enhance their smiles, and were removed once the actor was finished filming.
Between the 1920s and 1950s, regular people started getting veneers to correct all kinds of smile flaws. However, they were having trouble staying attached to the teeth. That is, until Dr. Michael Bunocore discovered that you could lightly etch the tooth's surface to help the veneers better adhere to it, making the veneers more permanent and lifelike.
Veneers as we know them today came about in the 1980s. They became more affordable, allowing for more people to use them to improve the look of their smiles.
Today's Veneers
In order for your veneers to look as realistic as possible, your dentist will shave off a thin sliver of enamel from the affected teeth. Although this step is necessary in ensuring your veneers won't bulge out in your smile, it also means that veneers are essentially a permanent treatment. Your teeth will always need some kind of protection going forward, whether that be veneers or crowns.
Today's veneers are much more customizable than they originally were almost a century ago. Your dentist can adjust the size, shape, and color of each veneer to both revamp the appearance of your smile while also making sure your restorations will blend in with your surrounding teeth. These steps are taken to help prevent "chiclet teeth," which look too white, perfect, and thus unnatural.
When you get veneers these days, you can fully expect them to look like a natural part of your smile. If you're thinking about receiving veneers to revitalize your grin, just think of how far dental technology has come that you're able to improve your pearly whites so easily.
About the Author
Dr. James Geer earned his Doctor of Dental Surgery degree from the University of Texas at Houston. He then opened his own private practice in Tomball, TX in 1977 and has never looked back. He maintains active memberships in the American Dental Association, the State of Texas Dental Association, the Academy of General Dentistry, the Willowbrook Dental Study Club, and the Greater Houston Dental Society. He has plenty of experience placing veneers. To learn more about whether veneers are right for you, you can reach Dr. Geer through his website or by calling (281) 357-4337.