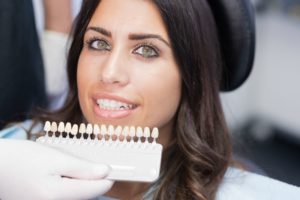 After years of suffering through having chipped and gapped teeth, you finally made the decision to revitalize your smile with veneers. You couldn't be more excited to have these ultra-thin porcelain shells conceal all the cosmetic flaws in your front teeth. however, it's worth mentioning that veneers are not indestructible, and they can break or even fall off if you're not careful. Here are five easy tips to help you keep your veneers in great condition and maximize their lifespan.
1. Don't Chew on Inedible Items
Are you a chronic nail biter? Do you have a habit of absentmindedly chewing on pencils when you're not writing with them? These habits could cost you your veneers if you're not careful. They can wear down the porcelain and cause chipping. It's best to use your teeth to chew food only.
2. Keep Up with Your Oral Hygiene
While your veneers themselves are immune to cavities, the teeth behind them certainly aren't. If you neglect to brush and floss every day, then you might develop a cavity or infection in your tooth that could compromise your veneers.
3. Limit Staining Foods and Beverages
Even though your veneers are much more highly resistant to discoloration than your natural tooth enamel, they can still become stained if you consume too much of items like coffee, tea, or wine. It's perfectly fine to eat and drink these things in moderation, but be sure to brush your teeth immediately afterward in order to keep your smile looking its brightest.
4. Protect Your Pearly Whites
You wouldn't play a game of football without donning a helmet to protect your head. Yet many people play sports without wearing any protection for their teeth. Every time you play sports, or even engage in solo physical activity, like cycling or jogging, you should wear a custom-made mouthguard from your dentist. You could wear a one-size-fits-all mouthguard from the sporting goods store, but it won't deliver the same protection as one made by your dentist specifically for your smile.
5. Quit Grinding Your Teeth
Also known as bruxism, teeth grinding is a terribly common habit among Americans of all ages. More often than not, it occurs subconsciously while you're sleeping. This habit can unfortunately damage your veneers. Ask your dentist about a prescription nightguard. This comfortable plastic tray is worn at night to prevent harmful contact of your top and bottom teeth while you sleep.
If you take proper care of your veneers by adhering to the steps listed above, your veneers can last upwards of 10 years, possibly even 20. Lastly, don't forget to visit your dentist for checkups to make sure your veneers are still in excellent condition!
About the Author
Dr. James Geer has served generations of Tomball, TX patients since opening his private practice in 1977. He is a graduate of the University of Texas at Houston. He has advanced training in many aspects of dentistry, including the placement of veneers. For more advice on how to make your veneers last as long as they possibly can, visit Dr. Geer's website or call his office at (281) 357-4337.