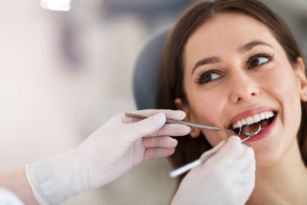 There's an old saying that what you don't know can't hurt you but, unfortunately, that's not always the case. Many people make sure to get screenings for colon, breast, or prostate cancer, but don't know how important oral cancer screenings are. This disease has been on the rise in recent years and is increasingly being found in people with no history of smoking. As with all cancers, early diagnosis is the best way to combat it. Thankfully, these screenings are easy and convenient because they're automatically included with your dental checkups. April is Oral Cancer Awareness Month, so it's a great time to learn more in this blog and find out what a screening is like!
Oral Cancer Statistics
Over a quarter of newly diagnosed cases occur in people younger than 55.
Approximately 53,000 Americans are newly diagnosed with oral cancer each year (or 132 people each day).
1 person will die from it every hour.
Oral cancer is being found in young, healthy people who don't use tobacco. Researchers believe it's due to the HPV virus.
However, there is a positive statistic: With early detection, the survival rate for oral cancer is 85-90%!
How Often Should You Be Screened?
The recommendation for professional screenings is twice per year, and it's also a good idea to watch for any of the following symptoms between visits:
A lump or bump that's developed recently.
A chronic feeling that something is stuck in your throat.
Trouble chewing or swallowing.
A persistent sore throat.
Any sores or lesions that haven't healed within two weeks.
However, since there are many benign conditions that look similar, such as canker sores, don't worry if you find something. Just schedule an appointment to have the area looked at so you can proceed from there.
What Is a Screening Like?
Oral cancer screenings are very straightforward and non-invasive. Both a dentist and hygienist will start by visually examining your lips, cheeks, throat, palate, and under your tongue. They'll also gently palpate your neck and under your jaw to see if there are any lumps, bumps, or tender areas.
There's also technology like the Oral|D light that's a wonderful addition to these screenings. This tool uses a special, fluorescent blue light to help practitioners see suspicious areas that may not be visible to the naked eye. This allows them to detect any potential issues as soon as possible.
Although the statistics for oral cancer are concerning, it's highly treatable when it's found early. And, with regular dental checkups, early detection is easy and convenient!
About the Author
Dr. James D. Geer is a family dentist with 40 years of experience and a graduate of the University of Texas at Houston. He's committed to his patients' oral health and overall well-being, so he and his staff perform oral cancer screenings at every checkup. If you have any questions or want to schedule an appointment, you can contact him via his website.