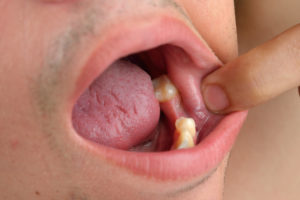 When you smile in the mirror, do you see two beautiful rows of teeth reflecting back at you? If you are one of the 178 million Americans that the American College of Prosthodontists estimates is missing at least one tooth, then you likely have a noticeable gap in your smile. A missing tooth can be a major source of embarrassment – but even more, it can affect your physical and mental health as well. Do you have gaps in your smile but are unsure whether it is worth it to fill them? Here are 3 compelling reason why it is important to replace missing teeth.
#1: Your Facial Appearance May Change
Improving one's appearance is one of the primary reasons people seek to replace a missing tooth. In addition to a dark gap interrupting your smile, a missing tooth can also impact the shape of your face.
When a tooth goes missing, the jawbone beneath it begins to slowly shrink away, much like a muscle atrophies if you do not use it regularly. Without the tooth to help stimulate the jawbone and support the structure of your face, your mouth can begin to look sunken and aged. 
#2: Your Teeth May Shift
Although their positioning in our mouth seems very solidified, teeth can in fact slowly move and shift over time.
If you have a gap in your smile, adjacent teeth can gradually drift in the empty space. This can have a serious negative impact on your dental and overall health, as it can alter your bite and make it more difficult to properly clean your teeth. 
#3: Your Mental Health May Suffer
Replacing a missing tooth is not just important for your physical wellbeing, but for your mental health as well.
Research conducted by psychologist Robert Zajonc and others indicates that there is a close relationship between smiling and feeling happy. However, if you are missing a tooth you may not feel confident enough to smile in public or even around close friends and family.
If you do not feel comfortable projecting happiness outwardly through smiling, you may end up having a less positive attitude overall.
How Can I Replace My Missing Teeth?
Fortunately, there is a range of restorative dentistry options that can help rejuvenate any smile, whether you are missing one or two teeth or an entire row. Popular and reliable treatment options include:
Dental implants – A titanium rod inserted into the jawbone that mimics the natural root structure to provide maximum support for an artificial tooth or bridge.
Crowns – Custom-made cap placed over a compromised tooth to address tooth decay or fractured teeth.
Bridges – Replace one to three consecutive missing teeth with a dental bridge that attaches to adjacent teeth to remain in place.
Dentures – Artificial teeth and gums that can replace an entire upper or lower row of teeth.
Deciding which treatment option is best for you will depend on your unique circumstances and should be made in consultation with a dentist in Tomball.
Missing a tooth may seem like a minor inconvenience, but it can have a major impact on your physical and mental wellbeing. Talk to a dentist today to find out which tooth replacement option is best to restore your smile to its former glory.
About the Author
Dr. James Geer has over 40 years of experience helping generations of Tomball residents achieve and maintain healthy, whole smiles. An active member of the American Dental Association, he offers a range of restorative dentistry treatment options to help fill the gaps in any smile. For more information on the best options to replace missing teeth, visit Dr. Geer's website or call 281-357-4337.