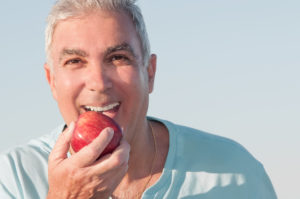 Are you missing teeth and desire to regain the life you once had? The best method for restoring your digits and the ability to eat, speak and smile with confidence is dental implants in Tomball. Before you have the procedure done, though, there are some requirements that must be met to ensure that you have a successful outcome. As you read on, you'll learn about them.
How Do Implants Work?
Made from high-grade titanium, dental implants are surgically inserted posts that act as the roots of your teeth by being attached to your underlying jawbone. In doing so, they provide a degree of sturdiness that's unmatched by any other method of restoration.
Once your face heals enough, an abutment is attached to the implant, which acts as an anchor for whatever type of restoration is affixed to it (crown, bridge or implant-supported dentures). After the fixture is placed, you'll be completely restored.
Who's the Right Candidate for This Procedure?
For the dental implant procedure to be successful requires a few things to be in place. Here's what the right candidate will possess:
Good Oral Health – For many people, their tooth loss is the result of poor oral health. Thus, problems like gum disease and acute bacteria growth will need to be addressed before you can qualify for dental implants. The posts that are inserted depend on the presence of healthy tissue and bone to seat properly.
Adequate Overall Health for Surgery – Before the dentist can perform your surgery, you need to have good enough health to endure anesthesia (if required). Problems like sleep apnea or heart issues could cause complications and need to be addressed before your dental implant surgery.
Enough Healthy Bone – For the dental implant procedure to be successful requires you to have enough healthy bone available. Lacking in this department is a sure way for your implant to fail. To qualify for the surgery, you may need to undergo a bone-grafting procedure.
No Tobacco – Tobacco use dries the environment in your mouth and creates a breeding ground for bacteria and infection. Thus, your implant will have a greater chance of failing.
Taking a New Approach
If the loss of your teeth is primarily due to negligence, then the dental implant process is a great time to start a new trend. If you have to wait to have the procedure done while you improve in some areas, it's not the end of the world.
What's more important, is getting in to visit your dentist in Tomball to be examined before you lose more bone mass. Thus, if you need to implement a strategy to prepare for surgery, you can get on track to recovery fast.
If you're suffering from missing teeth and wondering, "Is there a dentist near me in Tomball?" Your search is over. Your local professional is ready to guide you back to optimal oral health. Reach out to schedule a consultation today.
About the Author
Dr. James D. Geer earned his dental degree from the University of Texas at Houston. Now, 41 years later, he's still just as passionate about helping his patients experience the absolute best in oral health. Dr. Geer has advanced training and specializes in oral surgery, which he uses to restore his patients' way of life with dental implants. He can be reached for more information through his website.