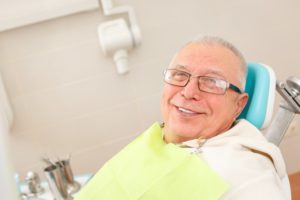 You're tired of living without the full function of all your teeth, but what can be done about it? Your local dentist says the most effective way to restore your smile is with dental implants in Tomball, and as you read on you'll learn the 6 simple steps to completing the process, which will allow you to once again speak with more clarity and enjoy a host of other benefits.
What are Dental Implants?
Dental implants are surgically inserted titanium posts that affix to your underlying bone. In doing so, they help to provide a level of stability for your jawbone that can only be rivalled by your natural teeth roots. Patients who have this procedure done are able to enjoy the following benefits:
Healthy Tension – They won't have to worry about bone loss due to the absence of tension provided by teeth pressing against each other in a healthy and symbiotic way.
Prevents Wrinkling – One of the other downsides of prolonged tooth loss is that it can lead to premature wrinkling, due to the facial skin not being pulled tightly enough. This can be offset by getting dental implants, which will provide the stability to maintain the bone mass that will keep your facial muscles tight.
The Ability to Eat Normally – With your new dental implants and permanent crowns, bridges and implant-supported dentures, you'll be able to once again eat all the foods you previously had to give up. Better yet, you won't have to worry about any sliding or slippage that is common with traditional dentures.
To Speak with Clarity – Your teeth play an integral role in your ability to speak properly. Thus, having a full set of ivories ensures that you'll be able to pronounce every word with clarity so that there won't be any more embarrassing misunderstandings when you're communicating.
The 6 Steps to Being Restored
Here are the basic steps to the dental implant process:
Initial Consultation – Before any work is done, you'll visit your dentist in Tomball for a consultation. While there, he'll thoroughly examine your oral cavity and take a series of X-ray photos to determine whether you have enough healthy bone to support the dental implant process.
Dental Implant Procedure – At your next visit, your dentist will place the dental implant. Before the surgery starts, you'll be given either IV sedation or local anesthesia to ensure that you have the most comfortable treatment process possible.
Osseointegration – After the procedure is completed, you'll be allowed to heal as the implant and your jawbone fuse together through a process called osseointegration. To help with the healing, your dentist will have you eat soft foods initially and may fit you with a temporary set of teeth to protect your implant.
Abutment Placement – The next step is to have an abutment placed after the first phase of healing is done. It's a small connector that attaches to the implant and allows a permanent fixture to be affixed to it.
Custom-Crafted Replacement Teeth – Following a second round of healing, your dentist will then invite you back to his office to have bite impressions and measurements taken that will be sent to a trusted lab that will fabricate your new permanent fixture, whether a crown, bridge or implant-retained dentures. When the fixture is ready, you'll return for a final visit to have it placed, leaving your dentist looking and feeling like a brand-new person!
Checkups – The final step is to maintain regular visits with your local professional for cleanings and checkups. These appointments will help to prevent future oral maladies and will also ensure that your implants are functioning as they should.
You no longer have to live in shame from missing teeth. With the dental implant process, being able to regain the life you once knew is no longer a fantasy – it's a reality. Reach out to your local dentist to learn more about the process and schedule a consultation.
About the Author
Dr. James D. Geer earned his dental degree from the University of Texas at Houston, and over 40 years later, he's still helping patients regain the lives they once had. Additionally, he has advanced training in oral surgery dealing with more complex cases. Dr. Geer restores patients' smiles at his private practice and can be reached for more information through his website.