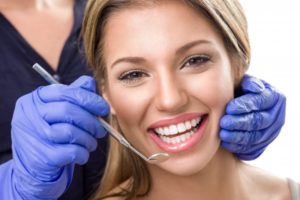 Everyone wants to keep a healthy, strong smile, but many don't know everything that they need to do to maintain it. *Hint* It takes more than brushing your teeth every once in a while!  A critical portion of smile maintenance is actually visiting your dental office for preventive care appointments.
Preventive dentistry in Tomball allows your dentist to catch oral health problems very early on so that they can be addressed, keeping your smile truly healthy for years to come. Learn more about why preventive care appointments with your dentist are crucial to keeping your teeth and gums strong and beautiful over the years.
One Thing You Should Never Do: Skip Dental Visits!
When you think about visiting your Tomball dentist, there's a high chance that you might not pick up the phone to schedule the appointment. Too many patients just don't see the value in their regular dental care visits—they only show up when their mouth is in pain. The truth is that prevention is the key to keeping your teeth and gums in great condition so that you can avoid pain altogether.
We're here to unleash the value of your preventive care app9itments. Here is everything that's included when you visit your dentist every 6 months. And a huge bonus—the cost is usually all covered by your dental insurance benefits plan!
Diagnostics
The start of a preventive appointment will begin with images takes from dental x-rays. These help your dentist to understand what's really going on with your smile past what meets the eye.
Dental Exam
Once your dentist has captured several dental x-rays of your mouth, they will carefully examine your teeth, gums, and soft tissues to see if there are any visual abnormalities. Your dentist will be checking for signs of:
Gum disease
Bruxism (teeth grinding)
TMJ disorder
Tooth decay
Oral cancer
Professional Cleaning
This part of the visit is dedicated to removing harmful materials from your smile, like plaque and tartar. Cleaning this buildup is essential to your preventive care as it will ward off the dangerous dental conditions listed above. Plus, you'll love the clean feeling your mouth has as you leave our office!
Dental Treatment Planning
If there were any abnormalities noticed at any point of the visit, your dentist will take this opportunity to discuss them now. This part of your appointment is dedicated to one on one treatment planning to meet your specific dental needs. By the time you leave our office, you'll have a mapped-out plan of how to take care of your smile until your next visit 6 months from now.
Has it been longer than 6 months since your last visit? It's time to find out if your smile is truly healthy!
---
About Our Office
Dr. James Greer loves seeing all patients, but we don't want to see you more than needed. That just means that you have dental problems—which is never good! We work to keep your smile in great, healthy condition by offering effective preventive care.  In the case that you do experience a dental concern, our team is always here to help you, too. Give us a call to schedule your next visit.