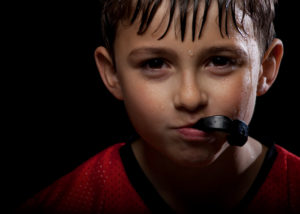 The health and beauty of your child's smile is important, which is why you promote oral hygiene and maintain their preventive dental appointments. However, if your child participates in sports and does not use a sportsguard in Tomball, you are placing their teeth and gums at risk of damage. It is a vital piece of protection needed to reduce their risk for a dental emergency when playing sports. If they are not using one, you are essentially sending them out onto the football field without a helmet.

Protect Your Child's Smile
According to the Journal of the American Dental Association, as much as 39% of dental emergencies are sports-related. Many of these could have been avoided if a mouthguard was used. It provides a protective barrier for the teeth and gums should trauma or an injury to the mouth occur.
All too often, many tend to believe that those that are available at local convenience stores are enough, but this is not true. Often, they do not fit correctly, which can do more harm than good. To ensure your child stays protected this season, they need a custom-fit sports mouthguard in Tomball from their dentist.
Benefit from a Custom-Fit Mouthguard
As you prepare for the upcoming season with the necessary equipment, make sure a custom-fit mouthguard is at the top of the priority list. Your dentist will take impressions to create the appliance. This ensures that it correctly covers the teeth while also being the right size for your child's mouth.
Using advanced technology, they are made to be comfortable and flexible. While they are flexible, they still provide the highest level of protection. In the event they fall or suffer a blow to the face, you will greatly reduce the risk for a broken, knocked out, or dislodged tooth. In some cases, it may even reduce the severity of a concussion.
Get a Sports Mouthguard Today
No one wants a dental emergency to ruin their sports season; however, one in six Americans will have some type of oral health emergency this year. With a custom-fit mouthguard, you will greatly reduce the risk of your child being among those who need immediate care.
Before the season starts, make a visit to the dentist your top priority. Keep their teeth and gums protected with an athletic mouthguard.
About Dr. James Geer
Dr. James Geer has been a trusted dentist since 1977 after receiving his Doctorate of Dental Surgery from the University of Texas at Houston. In addition to general dentistry, he has completed advanced training in many areas of specialty, including oral surgery. Due to his qualifications and experience, he caters to the needs of patients of all ages, including children. With an emphasis on building generations of healthy smiles, he provides the preventive services needed to protect the health of the teeth and gums.
If your child will be participating in sports this year, contact Dr. Geer today to discuss the benefits of athletic mouthguards to protect their smile.