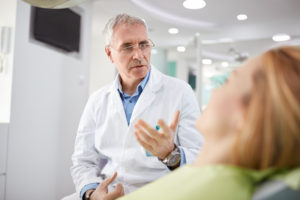 No one wants to hear that they need a dental surgery; however, there may come a time when it is recommended. No matter if you need to have a tooth removed or want to complete your smile with dental implants, you need a great oral surgeon in Tomball. You have many excellent options in the area but not all will meet your needs. You need to find the perfect one to care for you to put your mind at ease while performing a successful procedure. Dr. James Geer understands you have an important decision to make. To choose the best one for you, there are several things you need to consider.

Experience and Qualifications
When it comes to your dental care, you deserve to benefit from the best. You do not want to trust just anyone to perform your oral surgery. You need to choose a surgeon who is supported by extensive experience and qualifications.
Dr. Geer has been providing high-quality care since 1977 after receiving his Doctorate of Dental Surgery from the University of Texas at Houston. His advanced training specializes in many areas, such as impacted wisdom teeth. Through his reputation and qualifications, he is supported by various dental organizations, including the American Dental Association, the State of Texas Dental Association, and the Greater Houston Dental Society.
Extensive Services
To ensure all your oral surgery needs are met at one location, choose one that offers extensive services. As a trusted office for oral surgery in Tomball, we provide a wide range of services, including wisdom tooth extractions. In addition to simple removals, Dr. Geer's advanced training allows him to treat even the most complex wisdom tooth issues.
The long-term success of dental implants relies on their correct placement. Dr. Geer provides the ideal placement of the implant post. After the jawbone has fused to the post, he will complete the second step of the treatment process by attaching the abutment. A couple of weeks after the abutment is placed, you will have your final restoration attached.
Proven Results
To ensure you are in good hands, take the time to research the surgeon's results. You can do this by reading online reviews to look at first-hand accounts of past patient experiences. In addition, look at the smile gallery to see before and after pictures. This will give you an idea of the results you can expect to receive to make a wise investment in your dental health.
Benefit from The Best
Even if you just need a simple oral surgery, it is best to take the time to choose the right surgeon for your needs. As Tomball's trusted choice for comprehensive dental care, you can rest assured that you are in good hands with Dr. Geer.
You will benefit from high-quality care for successful results while we strive to promote your comfort for a stress-free procedure. If you are ready to choose the best, it is time to schedule your consultation. We will treat you with the integrity you deserve while promoting the health of your smile.