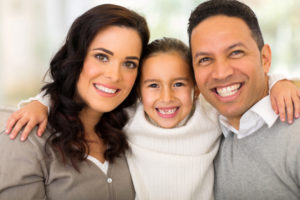 Working with a seasoned dental provider has its advantages. For example, not only can you rest assured that you're in good hands, you're also likely to find advanced services that you may not find at other practices due to their extensive training. Dr. James Geer is your experienced Tomball dentist, and here are some of the services you can expect to find when you choose him for your dental care.
Family Preventative Care
Patients of all ages are welcome at our office, and Dr. Geer recommends that most of our patients visit us every six months for their routine cleaning and checkup. Patients who struggle with gum disease may need additional cleanings throughout the year to help control their condition. Preventative visits allow us to detect issues such as gum disease, tooth decay, and oral cancer in their earliest stages, which gives you the opportunity to treat these problems with the least invasive treatment procedures.
Comprehensive Implant Dentistry
Patients who are living with a missing or failing tooth will appreciate the fact that they can receive comprehensive implant dentistry at our Tomball office. Implants are the best option for replacing one or more missing teeth. Dr. Geer can perform your implant placement surgery, monitor your healing process, and restore your tooth at our practice. Our patients love being able to work with the team they know and trust throughout their entire procedure.
Oral Surgery
While our goal is to help you keep your natural teeth for a lifetime, there are some circumstances that require the removal of teeth in order to protect your oral health. Some of these circumstances may be:
A severe dental infection
Wisdom teeth, or third molar removal
Extractions for orthodontic treatment
Dr. Geer specializes in tooth extractions, and his advanced training has given him the expertise to handle the more complex tooth removals. Our patients find that a tooth extraction can actually be a very smooth and even comfortable process when you work with a seasoned expert like Dr. Geer.
Cosmetic Dentistry
After over 40 years of practicing dentistry, you can bet that your dentist in Tomball knows how to deliver dream smiles to his patients. Dr. Geer has advanced training in many cosmetic procedures and he can help determine which type of treatment is right for your needs during a consultation. Dr. Geer uses the finest dental materials that not only benefit your oral health, they're also tooth-colored and aesthetically pleasing so you can be proud of your smile.
Contact Dr. Geer
If it's time for your family to schedule their next dental appointment, contact Dr. Geer today. We know you'll appreciate working with an experienced Tomball dentist!