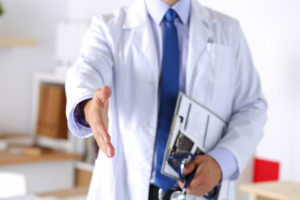 You can get pretty much everything you need off of the internet these days. Previously, you were only able to get fun things like movies, books, and pizza, but now you can get just about anything. With only a few key strokes, a battalion of people getting their master's degrees will instantly be at your door with groceries, toiletries, and probably a hot meal. One thing, however, that you can't get through the internet is dental care. You still need to venture out into the world to take care of you and your family's teeth. The question then is, how should you choose a dentist in Tomball? You'll literally find thousands of practices online, and it can be a bit overwhelming. Today, we're going to make that choice nice and easy for you. Here are the 4 big things you should consider when choosing a family dentist in Tomball.
1. See What Types of Patients They Serve
This is a very important question if you are looking for a dental practice for your whole family. Does the practice have experience with children? Can they help older patients who need their teeth replaced? Dr. James Geer and his team can happily answer yes to both questions. They have experience with patients of all ages, and can effectively treat your entire family under one roof.
2. Look At Their Services
Your teeth may have many different needs as time goes by, and you want to find a practice that will be able to treat you no matter the situation. This is exactly why Dr. Geer offers a wide variety of preventive, restorative, and cosmetic procedures. Whether you need a simple check-up, need to have a tooth fixed, or simply want your smile to look its finest, he can take care of it.
However, unlike many other practices, his range of care goes well beyond this. Dr. Geer and his team can perform wisdom teeth extractions, and will even make same-day appointments for those experiencing a dental emergency. Plus, they are one of the few practices in the area that is able to complete the entire dental implant procedure in-office, both placement and restoration. This makes his practice the premier place to permanently restore your missing teeth.
3. Read About The Doctor
Of course, you want to consider the training and experience of your Tomball dentist.
Dr. Dorian Geer has been helping Tomball residents since 1977, and couldn't even let retirement stop him. He received his DDS degree from the University of Texas at Houston, and went on to complete advanced training in oral surgery, specifically wisdom teeth extraction. He is a member of the American Dental Association, the State of Texas Dental Association, and the Academy of General Dentistry. Despite all of his years of experience, he continues to educate himself on the latest technology and techniques so he can better serve his patients every day.
4. Check Out Their Location
Firstly, you want to make sure the practice is actually in your area. If you live in Tomball, you wouldn't want to visit a dentist in the center of Houston, no matter how qualified they may be. You should also visit the actual office just to get a feel for the practice. Does it look inviting from the outside? When you go inside, are you greeted at the door, and does the office make you feel comfortable? These gut-reactions are often very telling, and can reveal a lot about how you really feel about a practice.
Want To Know More?
If you follow all 4 of these simple tips when looking for a dental practice, we're sure you'll see why Dr. Geer's office is the right place for you and your family's smiles.
If you'd like to know more about everything Dr. Geer can do for you, or want to schedule an appointment, please call today. We're happy to make your search for a dental practice easy, so come and see us.