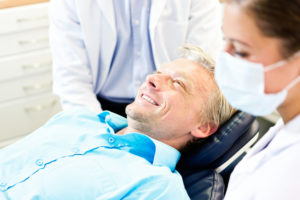 You worked hard and finally got accepted to Rice University. Sure, the commute from your apartment in Tomball each morning may be a little daunting, but it's worth it to get the college education you've envisioned your entire life. In the first week of classes, you notice some pain in the back of your mouth. It's your wisdom teeth – and since you're new in town, you're not sure who to see. When you talk with your parents, they both tell you how their dentists couldn't perform oral surgery on their wisdom teeth, so both Mom and Dad had to go to a brand-new doctor they didn't know at all. This is definitely not for you. You want someone you can see for oral surgery in Tomball from start to finish. What respected dentist can perform in-house oral surgery in Tomball? Dr. James Geer can.
What Oral Surgery Services Does Dr. Geer Offer?
Dr. James Geer has over 35 years of experience as a dentist and has undergone advanced training in oral surgery, with an emphasis on challenging third-molar extractions (wisdom teeth removal). He is also a force to be reckoned with when it comes to dental implants, a vital procedure for replacing missing teeth and ensuring proper dental health and excellent aesthetics. While Dr. Geer can certainly perform cleanings, fillings, and other preventive dental services, he's an expert oral surgeon in Tomball as well. He takes the time to educate his patients on what oral surgery they need, how to get ready for oral surgery, and makes sure they are at ease every step of the way.
How Do I Prepare For My Oral Surgery?
Since you now know that Dr. Geer is the right dentist and oral surgeon for you, and you've scheduled your appointment for with him, what can you do to prepare for oral surgery? Dr. Geer offers the following advice:
Prepare your transportation early. Make sure someone you trust can drive you home after your appointment, since you'll be under anesthesia during the surgery.
Don't rush. Prevent anxiety on the day of your surgery by giving yourself plenty of time to make it to the office 20 minutes early without needing to hurry for your appointment.
Wear short sleeves to your appointment. It will make it easier for our team to take your vitals and check your blood pressure.
Fast. Generally, Dr. Geer recommends not eating or drinking anything after midnight the night before your surgery. If you have medication you need to take daily, take it with a small sip of water.
Stock your fridge with soft treats. Thinking logistically, no one wants to go to the grocery store right after surgery. Grab lots of soup, yogurts and applesauce. Stick to soft foods for the first two days after surgery as you recover.
Since Dr. James Geer is your dentist for both routine dental care and oral surgery in Tomball, schedule your appointment today for wisdom teeth extraction or dental implants and let go of the worry of being referred out!