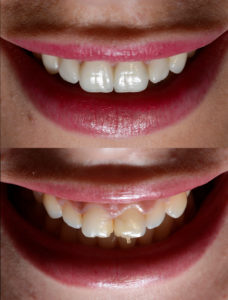 You're making a name for yourself in Houston as a key player in the technology industry. You're first in line for a promotion that would land you a spot as a senior executive at your tech company. But there's one more step in the process before you're officially where you want to be – you have to make a presentation to the Board of Directors. You're confident in your skills and your presentation, but there's one thing that makes you unsure if you'll get the approval of the Board – your smile. Your teeth aren't as straight as they could be, and you have some chips from grinding your teeth at night. You just can't picture yourself shaking hands and smiling at all the Board members confidently with the way your teeth are right now. There's no time for braces, and they wouldn't fix the chips or correct the issues that have happened from grinding. Driving home to Tomball, you wonder what to do. Who can you trust to make your teeth perfect and your dream job a reality? Dr. James Geer is the respected choice for veneers in Tomball.
What Exactly Are Porcelain Veneers?
Porcelain veneers are a thin shell of top-notch porcelain that are used to improve the beauty of teeth and address common issues like gaps, chips, cracks, stains, and even teeth that have been shortened by grinding. Porcelain veneers are an excellent, long-lasting solution to correct aesthetic issues that braces just can't address. They are also a great option for busy adults with crooked teeth who don't want to spend time waiting for braces to straighten teeth. Dr. Geer's expertise with veneers as an esteemed cosmetic dentist in Tomball makes him the dentist you need when it comes to creating a perfect smile.
Get Your Red Carpet Smile with Veneers
Perhaps you're still on the fence with knowing that porcelain veneers can achieve the natural-looking, yet perfect smile you desire. It should set you at ease knowing that veneers are the secret to the movie-star smiles for loads of celebrities, including model Chrissy Teigan, actor Tom Cruise, and pop-star Katy Perry. For people whose smile is their money maker, veneers are the ultimate choice for cosmetic correction. Veneers are one of the most popular dental treatments in Hollywood, and since they look so great, it's no wonder why.
How Does The Veneer Process Work?
Now that you're eager to get started with the process, you must be curious about what needs to happen to make your perfect smile real. Dr. Geer will start by discussing the result you want before preparing your teeth for the veneers. After the teeth are prepared, he'll take an impression of them for the lab that will create your custom veneers. He'll then apply temporary veneers that will look excellent and help you get used to the feeling of the veneers. After the veneers are created by the lab in a short amount of time, you'll see him again so that you can switch to the permanent veneers and have them bonded to your teeth. He'll ensure the permanent veneers and the bonding material match your teeth perfectly, ensuring a result that is both seamlessly beautiful and blended flawlessly with your natural teeth.
Since you've decided you're ready to take the next step in realizing your ideal smile, work with Dr. James Geer, the most respected cosmetic dentist in Tomball, and schedule your appointment today!