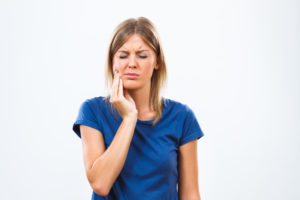 There are two things you can always count on when it comes to dental emergencies. 1) They're always inconvenient – and – 2) They may feel frightening, stressful, and overwhelming. The first thing to do is remain calm and remember that with a trusted dental team on your side like Dr. James Geer and his staff, everything is going to be alright. Next contact our office right away for further instruction or to be seen. When you know how to handle a dental emergency in Tomball, it won't feel so overwhelming.
Soft Tissue Injuries
When your gums, cheeks, or lips sustain an injury, the first thing to do is to contain the bleeding. You can do this with a cold compress and light pressure. Once the bleeding has stopped, contact Dr. Geer right away. Warm salt-water rinses are also soothing for soft tissue injuries if you have access.
A Knocked Out Tooth
For a tooth that's been knocked out, time is of the essence. We have the best chance of preserving your tooth if we can treat it within one hour of your injury, so it's important to contact us right away. Try to handle your tooth as little as possible and transport it carefully. If you can place it back in its socket for transporting that would be best. If that's not possible place it in a cup or baggie filled with milk in order to keep the cells moist and alive.
Chipped Teeth
A tooth that has been chipped needs immediate repair because a jagged edge is uncomfortable and can cause additional injuries to your soft tissue. Bring as many pieces of your tooth as possible to Dr. Geer so he can determine the best treatment procedure for repairing your tooth.
Dental Pain or Infection
If your tooth suffers from decay, a fracture, or injury the root may become infected. This has been said to be some of the worst pain you can experience and it's important to understand that a dental infection will not go away on its own. It will in fact get worse, cause additional pain, tooth loss, and could travel to other critical areas of your body such as your brain.
When you're experiencing this type of pain, we encourage you to contact our office right away, as we'll make every effort to see you as soon as possible. Root canal therapy may be able to remove the infection and preserve your tooth if you act quickly. If left untreated, a dental infection will lead to tooth loss.
Contact our Office
No matter what type of emergency you may be facing, we always encourage our patients to call us right away to determine the best treatment or course of action for your tooth.