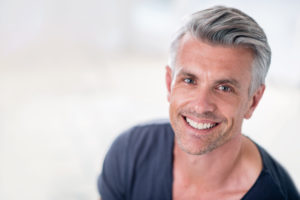 Your smile is a far cry from how it used to look. Dark stains, a chip off a front tooth, a smile gap and the wear and tear of years gone by have changed your teeth. You want a fresh, new look. Porcelain veneers from  James Geer DDS in Tomball, TX makeover qualified patients comfortably in just 2 dental visits.
What are porcelain veneers?
Veneers, or dental laminates, remake the frontside of teeth with cosmetic defects. Custom-made from fine porcelain according dental impressions and precise imaging techniques, laminates cover several kinds of cosmetic imperfections.
Through careful examination, your Tomball dentist helps a patient decide if porcelain veneers are right for his or her smile. In general, teeth should be free of decay and extensive restorative work such as fillings and crowns. Plus, gums must be healthy.
The porcelain veneer procedure
If the Tomball dentist and patient decide on veneers, Dr. Geer prepares the teeth by removing a very thin slice of enamel (½ mm). This is generally painless and does not even require local anesthesia. He then takes impressions of the patient's mouth so an outside dental lab can make a 3-D model of the top and bottom teeth. The patient leaves the office with temporary veneers in place.
The 3-D model allows the master ceramist to custom-craft each porcelain veneer for best size and shape, and photos help the technician decide on color and other aesthetic features that complement the patient's age, gender and facial structure. There are no one-size-fits-all porcelain veneers!