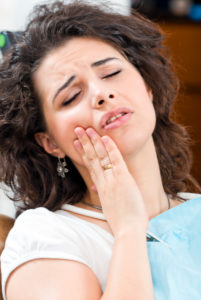 Nothing ruins a fun family outing to Sub Zero Ice Cream & Yogurt quicker than dental pain. Prolonged sensitivity to hot or cold food may be an indicator of tooth decay or fractures. Don't wait for this pain to go away on its own, because it's only likely to get worse. Take heed of this warning and get to your dentist right away! Here are some other signs that you need to see your Tomball dentist ASAP.
Gum Inflammation
Gums that are red, swollen and bleed when you brush them could be an indicator of the beginning stage of gum disease. The good news is that the earlier you take care of gum disease, the better your chances are of properly managing it, and even reversing it in some cases. Contact your dentist for a professional cleaning, check up and periodontal screening right away.
If left untreated, gum disease will progress into an advanced stage known as periodontitis. This stage requires a deeper cleaning called scaling and root planing that removes bacteria, tartar and plaque build-up from below the gum line. It's important to act quickly if you suspect that you may have gum disease, because the quicker your dentist can diagnose your condition, the better the chances are that you can take control of your oral health. Gum disease that is not treated will eventually lead to tissue, tooth and bone loss.
Tooth Pain
Sensitivity to sweets, hot and cold foods and beverages can be an indicator of tooth decay and cavities, however lingering pain, or a constant ache may mean you have an infection or injury to your nerve. Don't wait for dental pain to go away, contact your dentist immediately as infection can get worse and spread to other areas of your body. Acting quickly may mean the difference between losing and preserving your tooth.
Headaches
If you're experiencing frequent headaches you may want to contact your dentist, especially if you suffer from them in the morning. This could mean that you're clenching or grinding your teeth at night while you sleep, and you may not even be aware that you're doing it. Clenching can grinding your teeth can cause wear and fractures to your teeth, not to mention those painful morning headaches. Your dentist may be able to make you a mouth guard to help protect your teeth at night and alleviate some of that morning pain.
Dr. James Geer is your premiere dentist in Tomball! He's been providing quality dental care and excellent customer service to the patients in the Tomball area for over thirty years. Whether it's just time for your bi-annual cleaning and check up, or you're experiencing dental pain he's got you covered! Contact our office today to schedule your appointment.