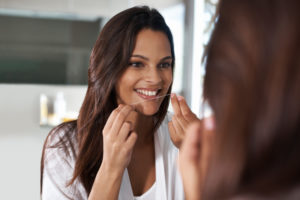 Brushing and flossing aren't enough to keep smiles healthy. Visiting your Tomball dentist preserves your oral health and prevents future problems.
Your Tomball family dentist, James Geer, teach patients that brushing teeth twice daily and flossing teeth once a day preserves gum health and avoids tooth decay. Disciplined at-home hygiene removes biofilm–sticky plaque and hard tartar which, over time, builds up on tooth surfaces, in between teeth and under the gum line.
Are you brushing and flossing?
Combined with a healthy low fat, high fiber diet that limits sugars and carbohydrates, at-home dental hygiene optimizes oral health.  But, is it enough? The American Dental Association, the largest professional and educational group for dental health providers in the United States, says it's not and that visiting your dentist every 6 months for exams and hygienic cleanings is important.
Your dentist in Tomball, TX agrees
Cavities, gum disease, oral cancer, and damage from tooth grinding are all problems you cannot find or treat at home. James Geer DDS perform comprehensive oral exams and take x-rays as needed to catch dental problems before they do extensive damage and require expensive, complex treatment. Starting at an early age and continuing through senior years, the dentists urge patients to get their semi–annual check–ups.
What happens during a routine dental exam?
First of all, rest assured that Geer and their friendly staff create a relaxed, patient-centered environment. Patients are not just a set of teeth and gums, but real people with real feelings and concerns.
Also, they understand that knowledge is power. So, they want patients to understand what a check-up involves and why each step is important.
During a 6-month exam, the Tomball dentist:
inspects teeth for decay
measures gum pocket depth to check for periodontitis, the biggest cause of tooth loss in American adults
checks the condition of existing restorations such as crowns, fillings and bridgework
does a fast and painless oral cancer screening to catch any abnormalities early for successful treatment
sees how teeth bite together and looks for evidence of tooth grinding
A routine appointment includes professional  cleaning by a skilled dental hygienist who scales teeth to remove plaque and tartar that ordinary brushing and flossing miss.  Also, Geer devises a comprehensive treatment plan to correct any problems found on examination.  He may recommend plastic sealants or fluoride treatments to prevent decay or a customized mouth guard to stop tooth grinding. He also addresses questions the patient has and things he or she would like to change regarding smile aesthetics.
You only get one set of teeth
Your teeth are not a renewable resource. You must take care of them to keep a bright, long-lasting smile.
So, why not visit your Tomball dentist for your routine check-up and cleaning? Your teeth and overall health will thank you. Contact the office staff today.