Cost of Dental Implants – Tomball. TX
Choose a Long-term Solution

If you've lost a tooth or two other the years, you don't need to settle for anything less than the best. You can replace your missing teeth with a nearly prefect replica of your natural smile using dental implants in Tomball. If you're like many people, you might think they are out of your budget, but they are more affordable than you might realize. Since your treatment is performed in several stages, you won't need to cover the entire cost upfront, giving you more time to pay. We'll help you find the solutions you need to treat your tooth loss without breaking the bank.
Types of Dental Implants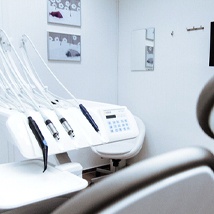 There isn't a set fee for dental implants because the cost is determined by each patient's treatment plan. There are several things that influence the amount you pay, like the number of teeth you're replacing. You can expect to pay more for multiple posts and abutments, as well as larger restorations.
Stages of Dental Implant Treatment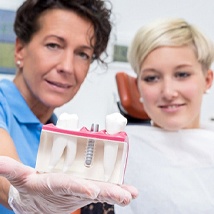 A dental implant rebuilds your tooth from the root up. This requires a multiple stage treatment process that will occur over several month. Each step has its own fee, so you won't need to pay the entire amount at once. Although everyone's treatment plan differs, most patients will need:
Initial Consultation: You'll require a visual examination and a CT scan to ensure you're a candidate for dental implants.
Additional Treatments: Many patients need additional procedures, like periodontal therapy, tooth extractions, or bone grafting.
Placement Surgery: Sedation or anesthesia is used to ensure a pain-free process of surgically placing your implant posts into your jawbone.
Abutment: Each post needs an abutment to secure your restoration.
Restoration: Your new teeth are made of all-ceramic material to look natural.
Are Dental Implants Worth the Investment?
Dental implants may cost more initially, but they are more affordable long-term. As the most reliable solution to treat tooth loss, they have the potential to last for decades with the right care, like maintaining your oral hygiene at home and visiting your dentist regularly. You should never need to worry about paying to have them replaced with the right aftercare.
Dental implants are also the only treatment to stimulate bone growth to keep your jaw strong. This stops dental drift to preserve your natural smile. As a result, you'll lower your long-term costs for care by preventing common issues associated with tooth loss.
Can I Use My Dental Insurance?
Every policy differs; however, most plans offer some coverage for dental implants after meeting your annual deductible. We will file the necessary claim forms to maximize your annual allowance to reduce your out-of-pocket cost. If you owe a remaining balance, we accept several payment options to keep your treatment affordable, like third-party financing.
If you're ready to invest in the next best thing to your natural teeth, take your first step toward a complete smile by scheduling your consultation. We'll create a customized plan and provide you with an estimate to permanently treat your tooth loss.